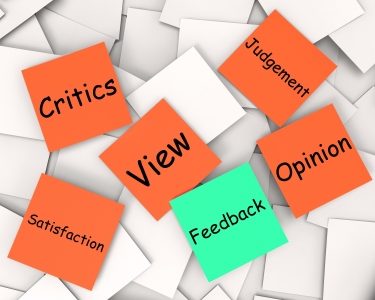 At times we are busy working to get done with tasks instead of being productive.
We count number of hours to be the bouts of output we generate. Which is not always correct.
And because of this 'busyness' we lose some of our attention when it comes to performing well.
So what happens in hindsight is our performance tanks, and we receive the dose of the much awaited word that we all run way from: criticism.
But wait. It's not just the so called 70 hour work week grind; it is also true that some of us need to be corrected to transform our mediocre performance to a better performance (incrementally) with the right coaching and mentoring.
Now how many of us actually take this criticism in the right spirit?
While all of us love been balked at (sometimes), do we actually take the corrective measures with deliberate practice to better it?
I leave the answer on you.
It takes some guts to rebound from a very harsh criticism spiel by your boss or your client – they won't think twice and lash out on you should something doesn't match their excellence standards. (Except for the nice clients and bosses who would give you enough room to settle in and sink in with the status quo.)
Well that is how the corporate world turns out to be – you can't afford to be in a corner of ignorance and under-performance. But let's look at the 'other' side of criticism. As Dorie Clark puts it: people wouldn't be criticizing you if you wouldn't be making progress. So, think for a moment: are you really touching a nerve? Are you making an impact? Are you a pensive learner? Are you really driven to outperform others by subtly proving it through your work and not giving up until you reach your flame of your illuminating success?
Criticism pushes you until your excellence pulls you.
While constantly stretching yourself to reach your highest potential can be hard, but you just need to remember as how Robin Sharma phrases it: change is hard at first, messy in the middle, but gorgeous in the end. This is no theory; it is actionable and rewarding. You just need to embrace the naysayers in your life as a reason to orient you to the possibilities of being the better version of yourself – and not settle for anything less.
As mentioned by Tim Ferriss in his book, The 4-Hour Work Week, 'People who avoid all kind of criticism fail. It's the destructive criticism we need to avoid, not criticism in all forms.'
So make some room for criticism – because sometimes the good comes out of the bad and the bad comes out of the good. You just need to have a discerning eye for embracing critique when someone takes out the time to give you a different perspective.
And don't forget: when you start making efforts to put your strengths to use, you will start seeing criticism as an improvement-oriented set of metrics that will lead you to the path of excellence!
Image courtesy of Stuart Miles.at FreeDigitalPhotos.net